Backlash Builds As HBO Hoses Legacy Max Subscribers And Removes Streaming Features
The service formerly known as
HBO Max
and now simply Max is the latest streaming service to put the squeeze on its subscribers. Owned by Warner Bros. Discovery, the service sent out an email to existing subscribers to its $15.99 per month ad-free tier that, effective on their next billing date, they'll either have to upgrade to a more expensive tier or lose a few streaming features, including access to 4K resolution content.
Up until the change, legacy subscribers to the $15.99 per month plan were able to enjoy 4K HDR streaming with Dolby Atmos on select titles, along with the ability to stream content on up to three devices at once. Going forward, however, those same subscribers will lose access to 4K HDR content and Dolby Atmos support. Additionally, the tier has been updated to restrict simultaneous streaming to two devices instead of three.
On the plus side, Max is at least retaining the same $15.99 per month (or $149.99 per year) price for its base ad-free plan. If you don't care about 4K resolution streaming, HDR, Dolby Atmos, and streaming on three devices at once, then it's a nothingburger.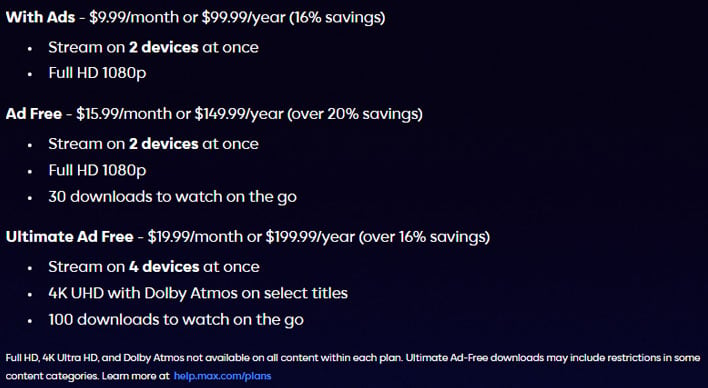 For those who do care, however, it's a much different kind of burger that starts with the letter "s"—the value proposition of the base ad-free plan is decreasing dramatically starting on the next billing cycle. For those who want to keep those features, Max is pushing an 'Ultimate Ad Free' tier that costs $19.99 per month, or $199.99 per year.
That plan restores access to 4K streaming and Dolby Atmos on supported devices. It also bumps up the number of devices you can stream to at the same time to four, and increases downloads to 100 (up from 30). Interestingly, there's no mention of HDR support on Max's website, though that's likely just an oversight.
The alterations to the $15.99 per month plan is not sitting well with users, who have taken to social media to vent their frustration. Gary Whitta, writer of
The Book of Eli
and co-writer for
Star Wars: Rogue One
(among many other credits in film, TV shows, video games, and books),
remarked on X
and
Threads
, "So the price stays the same but the plan gets worse. Great thanks a lot @StreamOnMax."
Several others reacted similarly to the change. Unfortunately, this is the reality of the streaming space these days—there has been a rash of price hikes (
hello, Apple
) and more are coming. To Max's credit, it's at least
retaining the $15.99 per month
price point, it just comes as little consolation to legacy subscribers who to make the most out of their 4K televisions.