Atari 2600+ Arrives This November For A Retro Gaming Revival, Preorder Now
By my count, there are about a million ways to satiate your appetite for
retro gaming
, be it through emulation on modern hardware or re-releases of old school systems with features adapted for today. Make that a million and
one
, actually—the current possessor of the Atari brand has teamed up with PLAION to release the Atari 2600+, a doting recreation of the original four-switch model released in 1980 complete with fancy wood-grain trim.
Based solely on the product photos and renders I've seen, the Atari 2600+ at a glance looks exactly the way I remember it. The differences become apparent upon closer examination—the Atari 2600+ sports an enlarged cartridge slot designed to reduce sticking, the Atari badge on the front lights up when turning the console on, and it boasts HDMI and USB-C connectivity. The modern recreation is also a little smaller, checking in at 80% of the original size.
The guts have been altered too, with the Atari 2600+ running off a Rockchip 3128 system-on-chip (SoC), a low-power quad-core chip designed for smart TV boxes, 256MB of DDR3 memory, and 256MB of eMMC storage.

It comes bundled with a replica of the original CX40+ joystick and cartridge containing 10 games, including Adventure, Combat, Dodge 'em, Haunted House, Maze Craze, Missile Command, Volleyball, Surround, Video Pinball, and Yars' Revenge.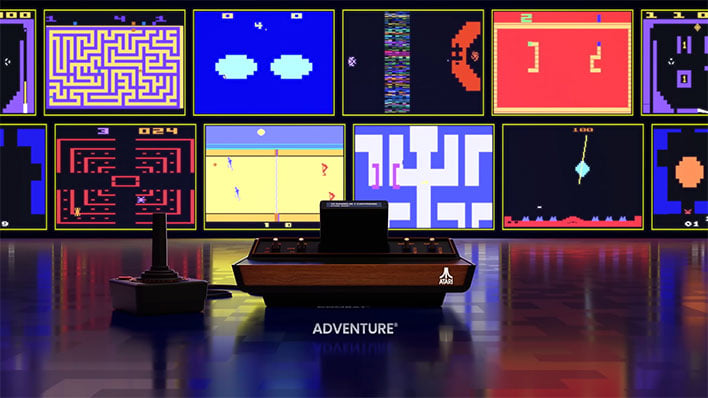 That's a respectable starting point but the Atari 2600+ goes a step further by supporting way more titles. It's oversized slot supports original Atari 2600 and 7800 cartridges, which is an unexpected albeit pleasant surprise. Original games still run via emulation, but the list of
supported titles (PDF)
is delightfully long. Same goes for newer-released Atari XP cartridges.
For anyone interested, the Atari 2600+ is available to
preorder for $129.99
and will release on November 17, 2023. Atari and PLAION are also releasing some add-on items, including a CX-30 Paddle Controller with a 4-in-1 game cartridge for $39.99, the CX-40 Joystick in standalone form for $24.99, and at least a couple of additional launch titles (
Berzerk Enhanced Edition
and
Mr. Run and Jump
) for $29.99 each.