Apple iPhone 16 Could Add Yet Another Side Button But What Will It Do?
The iPhone 15 family of smartphones has not even been in the wild for a week yet, and there are rumors about a possible new capacitive button coming with the iPhone 16 floating around. The
iPhone 15
family of smartphones officially launched on September 22, 2023.
The
iPhone Pro
models always include significant changes that set them apart from the base models. This generation one of those came in the form of an Action button that replaced the Ring/Silent switch. Instead of being relegated to one function, the new Action button allows users to choose between nine different settings, including silent mode, focus, camera, and the ability to set the button to perform a number of shortcuts. It is being said that Apple may be working on a capacitive button, known internally as the "Capture Button," for the iPhone 16.
The project, codenamed "Project Nova," is thought to be one of the main selling points of the yet-to-be-announced iPhone 16 lineup. Instead of being located on the side where the current Action button and volume rockers are, it will be just under the power button. It is not certain what Apple intends to use the new button for.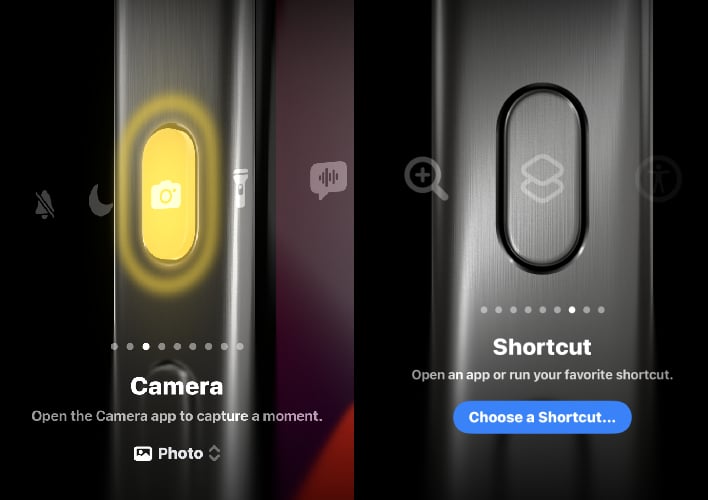 Apple's iPhone 15 Pro Action button.
A capacitive button differs from a mechanical button in that it does not move when pressed. Instead, the button detects pressure and touch and provides haptic feedback to let users know they have activated it. It is expected to work similarly to the Home Button on the iPhone SE, which mimics the press of a physical button through the built-in Taptic Engine, according to a report by
MacRumors
.
Apple played around with a capacitive button regarding the
iPhone 15
, but ended up canceling the project due to unsatisfactory test results and several hardware issues, according to inside sources. If true, however, the team now has ample data and experience to try again with the iPhone 16.
One significant difference with the new capacitive button as opposed to the new Action button on the iPhone 15 Pro models, is that it is believed it will be made available on all iPhone 16 models. It is worth noting that the Cupertino-based company is also thought to be working on a hardware configuration without the Capture button, more than likely as a fallback in case significant issues cannot be overcome in time with the capacitive button.
If Apple is successful with designing and creating a working capacitive button, it is also believed that it will also be used to replace the Action button. The haptic Action button, known as "Project Atlas," uses a similar design to the Capture button. In addition to the new capacitive buttons, Apple is also said to be redesigning the camera bump to include a vertical camera arrangement similar to the iPhone 12, as well as possibly increasing the screen size of its Pro models from 6.1-inches to 6.3-inches and 6.7-inches to 6.9-inches respectively.
As with any rumor or pre-production information, all of this about a possible
capacitive button
can be taken with a grain of salt. Until Apple actually enters into production with its iPhone 16 and officially announces any possible changes, anything is possible.