Animal Crossing: New Horizons Tips And Tricks For Today's Fishing Tourney
This
Animal Crossing: New Horizons
tourney seems a little fishy. Fishing enthusiasts will be delighted to know that CJ's Fishing Tourney is available today. The event is only available for a limited time, so here is everything you need to know about the Fishing Tourney in
Animal Crossing: New Horizons
.
What You Need to Know about the Fishing Tourney
CJ's Fishing Tourney occurs once every three months in both the northern and southern hemispheres on January 11, April 11, July 11, and October 10. The event is only available between 9am and 6pm local time, and players will know that the event is ready to go because the music on the island will be slightly different than usual.
Players will first need to make sure that they have rods and bait in their inventory. They will then need to find CJ, an otter with a cooler, on their island's plaza. CJ will ask if the player would like to join the tourney, after which they can enter multiple times. The first entry will be free, but additional entries will cost 500 bells each.
Players will then need to go to the closest body of water and catch as many fish as possible within three minutes. The first three fish are worth one point each. The player will be awarded two bonus points if they manage to catch any more fish.
The player's points accumulate during the event and the player can trade in points for a variety of prizes. The prizes are "fishing" themed and range from fish t-shirts to fish wands. Each of the prizes cost 10 points. The player can earn a Bronze Trophy for acquiring 100 points, a Silver Trophy for 200 points, and a Gold Trophy for 300 points. CJ will also mail the player a special prize the day after the event if the player reaches 100 points.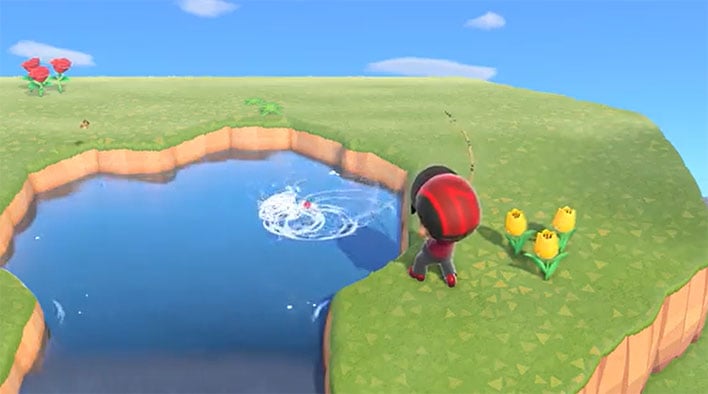 Image from
Nintendo
Tips and Trick for Catching Fish
First and foremost, CJ will store the fish that the player catches in their cooler. The player therefore does not need to worry about keeping fish in their inventory and can instead focus on carrying rods and bait. Players at the end of the round can then choose to sell the fish to CJ for 1.5 times the usual price or take the fish out of the cooler and save them for something else.
Second, players will want to keep a shovel on hand to dig up Manila Clams. Manila Clams can be used to make bait. Fishing bait helps make a fish shadow appear anywhere you desire.
Last but not least, be aware that the Bunny Day event may interfere with the tourney. Water Eggs must be fished out of bodies of water and will appear in the same shape as the fish shadow. Players may find themselves catching a few more eggs than anticipated. Thankfully most players seem to have still been able to catch plenty of fish for the Fishing Tourney. You can check out our
Animal Crossing: New Horizons Bunny Day event guide here
.