AMD Ryzen 7900X3D And 7800X3D Zen 4 CPUs With 3D V-Cache May Launch Sooner Than You Think
Did you see
our post earlier
about the purported delays for midrange and high-end GeForce 4000-series cards? Well, not content with laying out release windows for most of the impending hardware that's on the way, Twitter-leakster Greymon55 also had something to say about "Raphael-X". What is that, you may ask?
Raphael is the codename for AMD's
Zen 4
-based desktop processors as they will be implemented in the Ryzen 7000 series. The CPUs are expected to be similar in structure to AMD's extant Ryzen processors: one or two "Core Complex Dice" with up to eight cores each, for a maximum of 16 cores in one AM5 socket.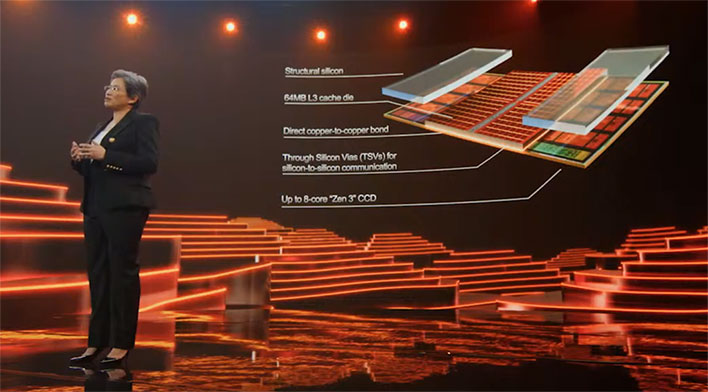 So, what about that Raphael-X thing? Folks who buy servers probably already know—"Milan-X" is the name of AMD's EPYC Milan processors when
they get fat stacks
of 3D V-Cache applied, tripling the L3 cache per CCD. We've never heard anyone say "Vermeer-X" to refer to the Ryzen 7 5800X3D, but that's essentially what it is. So saying, "Raphael-X" is Raphael with 3D V-cache.
Given the massive speed-up in certain tasks offered by the
Ryzen 7 5800X3D
over its standard sibling, some enthusiasts have been chomping at the bit to hear when Zen 4 processors with 3D V-cache would come around. AMD
already confirmed
that it's happening, after all, so the only question is "when?"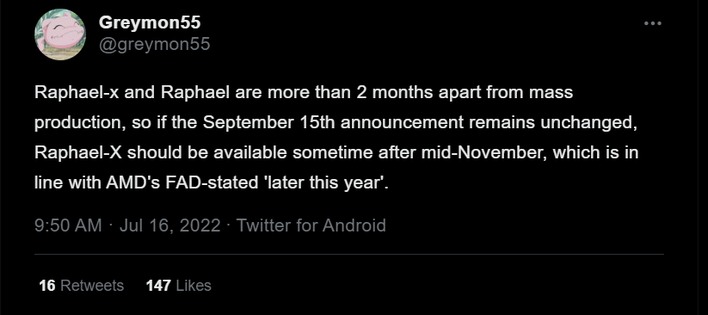 According to Greymon55, the plus-cache models of Raphael are coming two months after the regular models. If we go along with his earlier prediction that the Ryzen 7000 processors would launch in September, then we're looking at November for Raphael-X.
It will be fascinating to see if the faster DDR5 memory on Socket AM5 waters down the impact of 3D V-cache somewhat on Raphael. I jumped on the Ryzen 7 5800X3D as soon as it was available, and haven't regretted the decision for a second. Hopefully, Raphael-X is just as impressive.