AMD Zen 4 CPUs Rumored On Track For 2021 Release As Early TSMC 5nm Yields Impress
Enthusiasts and enterprise customers have only been swimming in 7nm Zen 2 goodness for the past few months or so, but AMD is not sitting still when it comes to the rapid-fire development and release of its processors.
Zen 3-based CPUs
based on TSMC's 7nm+ process node are on track for launch likely during the second half of 2020.
And now a new report today coming from China Times (hat tip to WCCFTech), says that TSMC is already progressing nicely with its next-generation 5nm process node. The company has three companies lined up with first production run: Apple, HiSilicon, and AMD. According to the report, TSMC is already seeing promising yields from 5nm (currently sitting at over 50 percent), and it is already outpacing the yields that the company witnessed with 7nm at this stage in its development.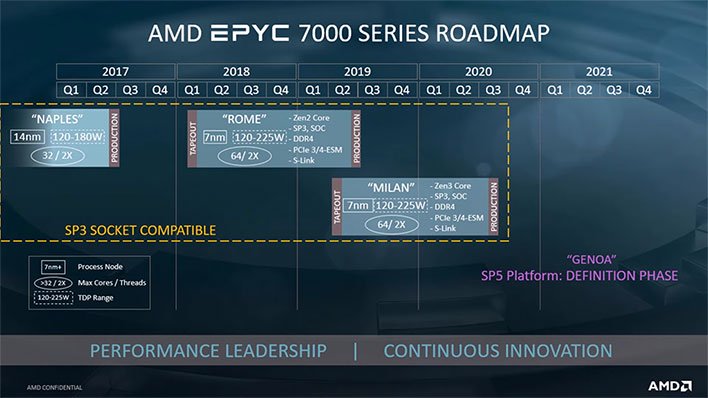 AMD will be using this 5nm process node with its Zen 4 architecture, which will be a die shrink of Zen 3. AMD has already indicated that Zen 3 will be an all-new architecture compared to Zen, Zen+, and Zen 2. Forrest Norrod, AMD's General Manager for the Datacenter and Embedded Solutions Business Group, recently said that Zen 3 would provide a performance uplift "right in line with what you would expect from an entirely new architecture."
So that means that the 5nm-based Zen 4 will likely rely on the smaller process node and evolutionary architectural improvements to continue ramping performance. If AMD is able to maintain its breakneck pace of development/release for new Zen processors, the first Zen 4 products should start shipping in 2021.
But it's not just AMD that will see benefits. Cortex A72 SoCs based on 5nm tech will provide a 1.8x uplift in logic density over the same chip built on 7nm. There will also be the opportunity at 5nm to increase overall performance by 15 percent or reduce power consumption by up to 30 percent (assuming the same logic density). HiSilicon's next-generation Kirin chips are also reportedly tapping TSMC's 5nm tech, and Apple's A14 SoC desisted for the 2020 iPhones will also leverage the process node.