AMD Ryzen 7 4700U 8-Core Renoir Zen 2 APU Leaks With 4.2GHz Boost Clock
We've been hearing a lot about
AMD's next-generation Renoir APUs
in recent weeks, and it's likely that a release is just around the corner. Based on recent reports, it likely that AMD will announce these mobile and desktop processors at CES 2020 in Las Vegas.
Today, we're getting the most detailed account of a Renoir APU to date with the "leak" of the Ryzen 7 4700U. Like all of the upcoming Renoir APUs, the Ryzen 7 4700U is based on AMD's 7nm Zen 2 architecture. As is often the case with AMD's APUs, the switchover to a newer architecture/process node (in this case, Zen 2) is coming months after it landed for the desktop Ryzen 3000 processors.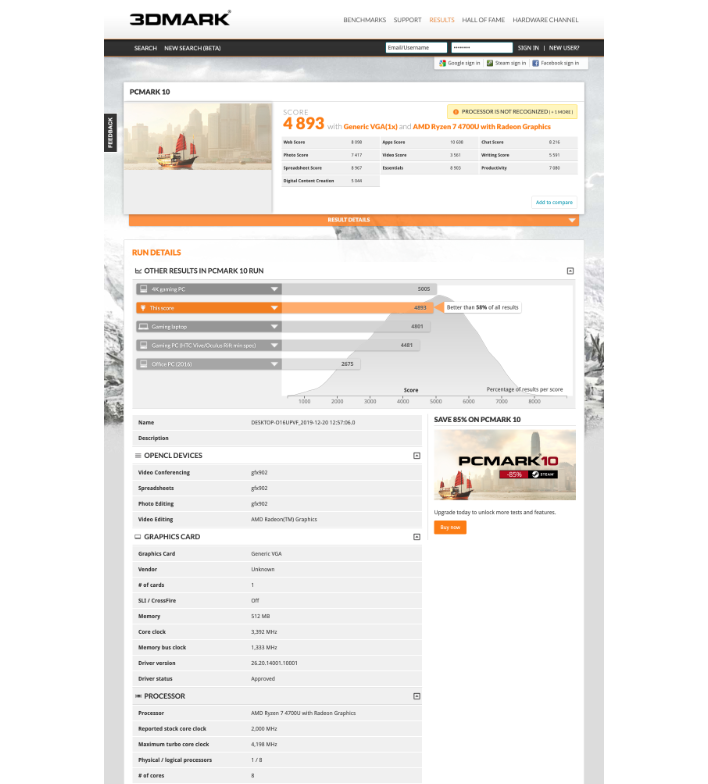 The Ryzen 7 4700U was spotted in PCMark 10 and it shows a CPU with 8 cores capable of executing 8 threads. The CPU also features a base clock of 2GHz and a boost clock of 4.2GHz. While we're uncertain if these are the actual final clock speeds for the Ryzen 7 4700U, it's worth noting that the base clock is 300MHz lower, while the boost clock has been increased by 200MHz.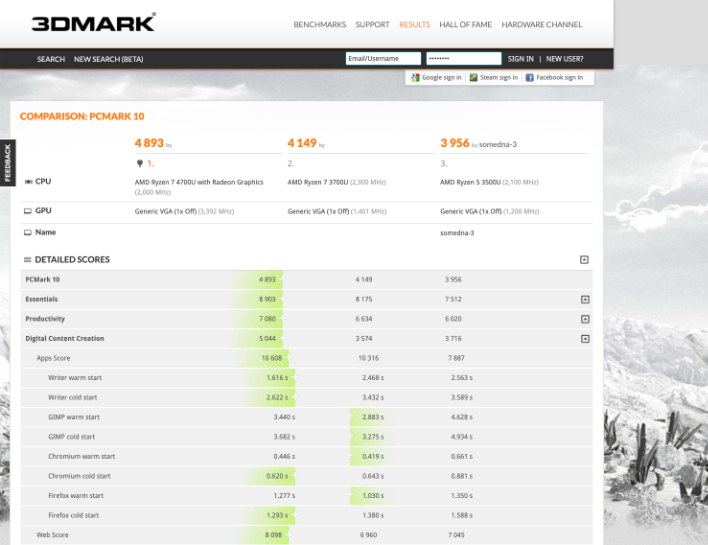 Compared to the Ryzen 7 3700U, the Ryzen 7 4700U's sore of 4,893 is nearly 20 percent higher. The result also puts the Ryzen 7 4700U ahead of the Intel Core i7-10510 (4,322) and the Core i7-1065G7 (4,758), but falls short of the Core i7-10710U (5,457).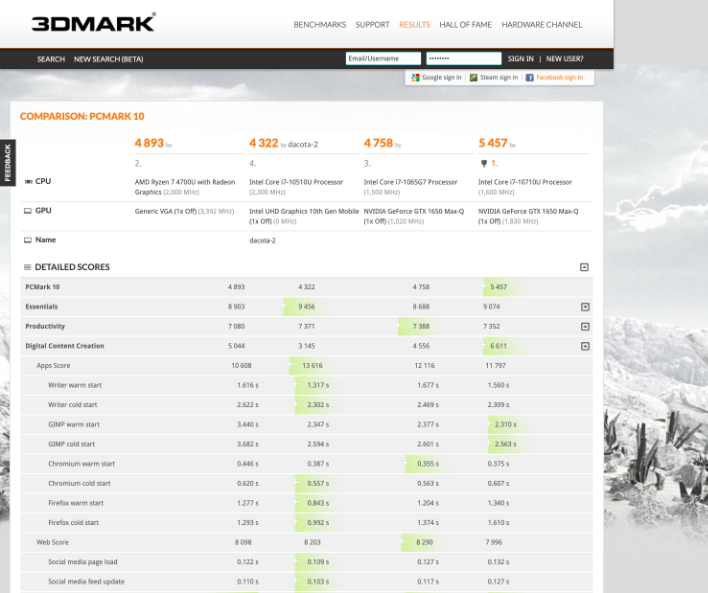 Of course, we'll definitely want to get one of these new Renoir APUs in our hands so that we can get some real-world benchmarks on the record, but things are looking rather promising at this early stage in the game. AMD has been absolutely killing it with Zen 2 on the desktop side of things, but the company has been lacking in performance with respect to its current Zen+ based APUs -- especially compared to Intel's latest Ice Lake offerings.
If AMD can truly leverage the strength of Zen 2's IPC gains while at the same time delivering beefed up Radeon GPUs, Intel might finally have some real competition in the mobile sector.