ADATA XPG Sage PCIe 4.0 SSD Hits Breakneck 7GB/sec Read Speeds At CES 2020
Earlier today, we brought you news of
Samsung's new Pro 980 PCIe 4.0 SSD
, which will deliver sequential read/write performance of 6.5GB/sec and 5GB/sec respectively. While no doubt impressive and superior to currently available PCIe 4.0 SSD solutions on the market, ADATA is looking to crash the party with its new XPG Sage.
Rather than the Phison E16 controller that is being used on current PCIe 4.0 SSDs, or even the Phison E18 that is expected with their 2020 successors, the XPG Sage is using the Innogrit Rainier (IG5236) controller. This particular controller can support up to 16TB of storage and uses an 8-channel interface.
While Innogrit may be an unfamiliar name to us, we can't argue with its performance. ADATA's CrystalDisk benchmarks show sequential read and write performance of 7.2GB/sec and nearly 5.4GB/sec respectively for the XPS Sage. That is truly impressive performance that puts it even ahead of the already brawny Samsung 980 Pro.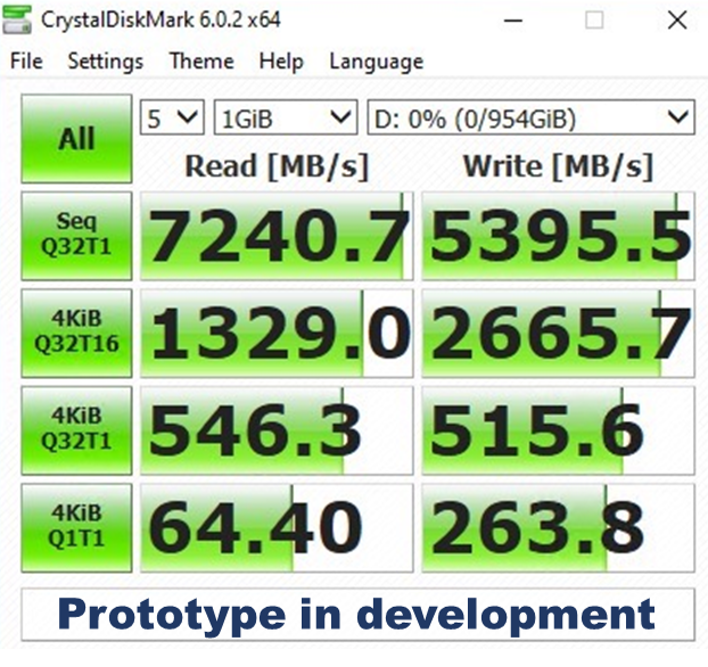 According to Tom's Hardware, which got the see the XPG Sage up close, ADATA is quoting random read and write IOPS of 1,000,000 and 800,000 respectively. ADATA also alleges that the sequential reads of 5.4GB/sec can easily hit 6GB/sec with some firmware tweaks before production SSDs roll off the assembly line.
Other details of note include 4GB of DRAM cache, and the fact that the shipping XPG Sage will include an integrated heat spreader to keep temperatures in check under load. It's also been reported that the SSD will be available in capacities up to 4TB.
While we're hearing that the Samsung 980 Pro will be launching later this month, it's likely that XPG Sage won't arrive until as late as June 2020. By that time, we should start hearing more rumbling about AMD's Zen 3-based Ryzen 4000 desktop processors.

(Top image courtesy Tom's Hardware)