Dodge Durango SRT Hellcat Rumored To Debut In April With Demonic 700+ HP Powerplant
Dodge is intent on Hellcat-ing all of the cars it has in its lineup. We've had Hellcat versions of both the Charger and Challenger. Dodge's full-size SUV, the Durango, is now set to get the Hellcat treatment. A brief teaser of the 2021 Durango SRT Hellcat surfaced in the
Dodge House of Power | The Fast Saga
trailer that highlights the Dodge cars that have been featured in the movie franchise.
At about the 17-second mark in the video, we see a black SUV fender that has the Hellcat logo on the side. The next second we get a shot of the SUV that you will miss if you blink. Motor Authority says that a person familiar with Dodge's plans who wasn't authorized to speak publicly did confirm that the Durango SRT Hellcat will debut at the New York Auto Show in April.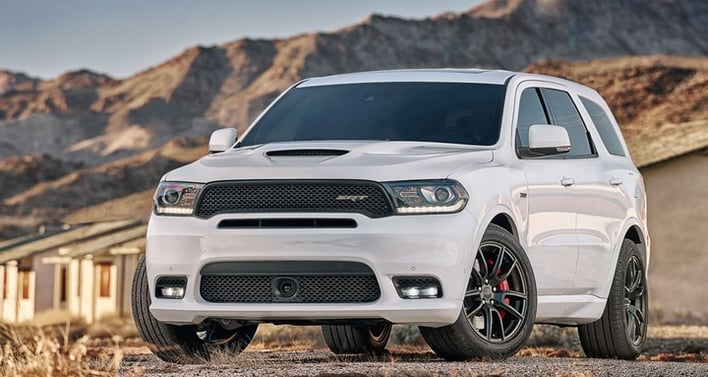 FCA has one Hellcat-powered SUV under the umbrella already with the Jeep Grand Cherokee Trackhawk that runs the Hellcat 707 hp engine. The assumption is that the Durango SRT Hellcat will get the same 707 hp engine with a blower on top pushing 11.6 pounds of boost. Durango Hellcat power will go to all four wheels via an 8-speed automatic.
The Durango SRT Hellcat will undoubtedly be slower than the Trackhawk since the Durango is a heavier, three row SUV. However, Durango Hellcat will be the fastest way to move a family that needs three rows of seating. The SUV is expected to have five drive modes with a track and snow setting. The normal Durango SRT with its 475 hp V8 is expected to carry on alongside the Hellcat. There is no word on pricing just yet, but consider the fact that the normal Durango SRT starts at $62,995 and the Grand Cherokee Trackhawk starts at $86,900 and you have a general idea of cost.
The last new Hellcat we talked about was last summer when the 2020 Charger SRT Hellcat Widebody debuted.