Watch Link Surf A Hoverboard Over Hyrule In Intense Zelda Tears Of The Kingdom Trailer
The Legend of Zelda
fans have been excited for the direct sequel to
Breath of the Wild
,
The Legend of Zelda: Tears of the Kingdom
and we have to admit that we are, too. While there have been direct sequels in the series, it's rare. Even then, many direct sequels have significant gameplay changes. Thanks to a new Nintendo Direct trailer, we get to see even more details of what's possible in the new title.
The trailer opens with a dark representation of the Kingdom of Hyrule. We hear a voice-over from what would most likely be Ganon, the usual antagonist in most Zelda games, though there has been no confirmation of that being the case. The voice implores its minions to "rise" and eliminate Hyrule and its allies. Later, though, the trailer provides far more insight into new mechanics and functionality, particularly regarding things like mobility.
The Legend of Zelda: Tears of the Kingdom Nintendo Direct Trailer
Starting around the 1:14 mark of the video, we hear a voice, possibly Zelda's, telling Link that he may be unable to stop whomever the antagonist is before moving into some epic music and fantastic quick shots. These show puzzle-solving, combat, a few weapons, boss fights, and cut scenes. However, some of the coolest pieces of this trailer are what look like vehicles and methods of transport.
At around 1:38 in the video, we see Link driving what looks like a vehicle. It even sounds like it's making engine noises. A few seconds later, we see Link on a massive airborne controllable moving platform. Yes, it looks like a hoverboard that may have taken inspiration from products like
Hendo's Hoverboard
. Of course, we finish with Link riding his trusty steed. Fan responses have been pretty positive overall, according to YouTube Comments.
One user points out, "The fact that we all basically created our own vehicles by abusing the first games physics is now in some fashion a legit feature in the sequel is actually making me cry."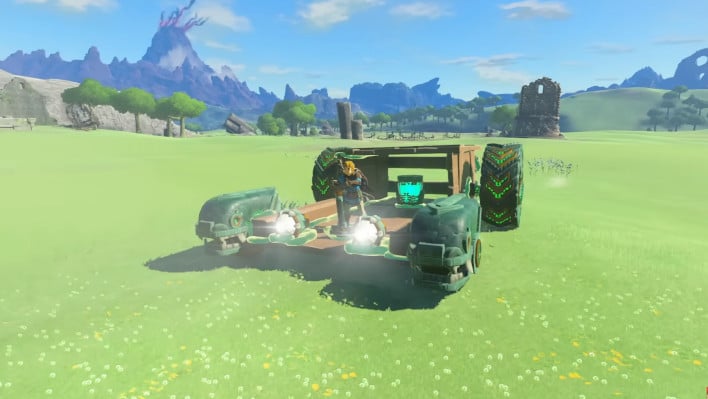 Screen Capture of vehicle in The Legend of Zelda: Tears of the Kingdom

The trailer is rather emotional if you ask us, but many of us who are fans have an emotional connection to the series. Whether the vehicles will be craft-able, given to our protagonist, or just part of specific missions or dungeons, we don't fully know yet. As we said before, we're hyped for the title and look forward to what
Nintendo
brings us.