Newly Unveiled US Space Force Logo Boldly Goes Where Star Trek Has Gone Before
Does the new United States Space Force logo go where no logo has gone before? Many have argued that the US Space Force logo resembles
Star Trek's
Starfleet command logo. Their similarities have been the subject of both jokes and outrage on social media.
President
Donald Trump
revealed the new logo of the US Space Force on Twitter. Many Twitter users were quick to accuse the designers of "ripping off" the
Star Trek
creators. Both logos feature a delta symbol in their centers and ellipsis.
Also, look at John's tweet too! https://t.co/kV4awqAORr

— Miriam Kramer (@mirikramer) January 24, 2020
It is easy to jump to the conclusion that the Space Force emblem is a Star Trek copycat, but this logo has a much deeper history. Space Force representatives have noted that the new logo is inspired by the emblem of the US Air Force Space Command (AFSPC). The AFSPC was founded in 1982 to concentrate on missile warnings. It also helped to provide satellite-based intelligence, improve space launches, and ensure that the United States had access to space. The AFSPC was recently re-designated as the US Space Force with the signing of the National Defense Authorization Act for 2020. The Space Force is now a separate service branch of the US military within the Air Force and its purpose is to protect American interests in space and aid in space operations.
The AFSPC logo features a deltoid, ellipsis, stars, satellites, and the earth. Space Force representatives remarked, "The delta symbol, the central design element in the seal, was first used as early as 1942 by the U.S. Army Air Forces; and was used in early Air Force space organization emblems dating back to 1961." The Space Force emblem is reportedly intended to honor the Air Force's history.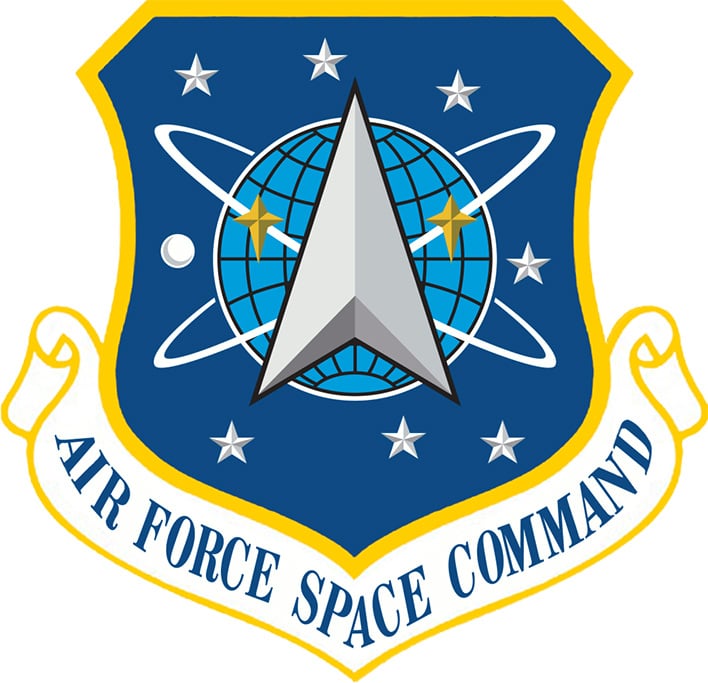 Image from the United States Air Force Space Command via
Wikimedia Commons
Interestingly, the
Star Trek
Starfleet Command logo was inspired by the original NASA logo. This particular NASA logo was in use between 1959 and 1975. The official
Star Trek
website notes that their delta insignia are meant to convey duties of the various crew members.
The familiar delta shape has been popping up both on earth and in space. NASA's Mars Reconnaissance Orbiter (MRO) captured an image of a
delta-shaped dune cast on Mars
. The dune cast was formed between 3.8 billion to 4.1 billion years ago after a volcanic eruptions failed to fully cover the dune. Its shape also drew many comparisons to the
Star Trek
insignia.