Tesla Sets Q4 Sales Record, Smokes Earnings, Boosts Model Y Range For Dessert
Tesla
released its Q4 earnings report this afternoon, and needless to say, the company didn't disappoint. For starters, it was Tesla's second straight quarter of profit, coming in at $105 million for Q4 2019. This represented earnings of 56 cents per share for the quarter.
However, Tesla posted an annual loss of $862 million, though investors seem unfazed by that figure. Two straight quarters in the black along with a steady increase in EV deliveries has investors rubbing their hands together. Tesla reported deliveries of 112,000 vehicles for Q4 2019, and a total of 367,500 deliveries for all of 2019 (a record for the company). Looking ahead, Tesla says that it will deliver in excess of 500,000 EVs during 2020.

The reason for the big jump in production for the current fiscal year is because of the company's Chinese Gigafactory that already has the capacity to build 150,000 vehicles. To put those figures in perspective, Tesla's Fremont, California plant currently has capacity to produce 400,000 of the Model 3/Model Y and 90,000 of the Model S/Model X. Fremont production capacity for the Model 3/Model Y is expected to top 500,000 vehicles for 2020.
This rosy outlook sent TSLA share soaring in aftermarket hours. TSLA has already been on a SpaceX-style upward trajectory since October 2019. On October 23rd prior to the company's Q3 earnings report, TSLA was at $254/share. Today at the bell close, TSLA sat at $580.99. However, after reporting its Q4 2019 earnings, the stock is up over 11% after hours and is sitting at around $648.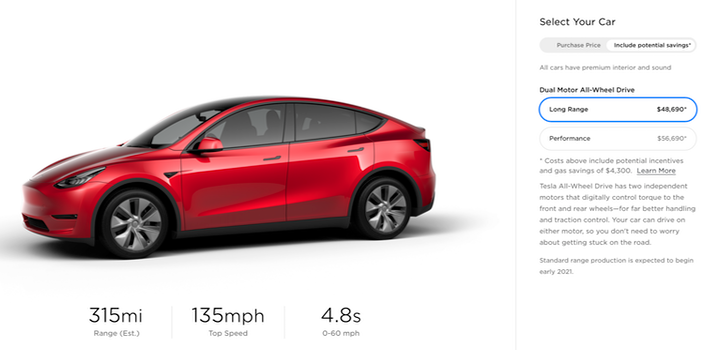 In other Tesla news, the company announced that the maximum range for the Model Y crossover EV (dual motor) has been expanded from an already impressive 280 miles to 315 miles. "Due to continued engineering progress of the Model Y all-wheel drive (AWD), we have been able to increase its maximum EPA range to 315 miles compared to our previous estimate of 280 miles," the company remarked during its earnings call. "This extends Model Y's lead as the most energy-efficient electric SUV in the world."
In addition, in what might be a first for Tesla, the company has pushed up deliveries of the Model Y. It is now indicating that the first customers will start receiving their preorders in March 2020 (instead of Fall 2020).