Qualcomm Snapdragon 7 Gen 3 Brings A Huge AI Uplift To Affordable Android Phones
Qualcomm is looking to bring more features to mid-range Android devices with the launch of its
Snapdragon
7 Gen 3 Mobile Platform. The company says that the design of its new platform focuses on bringing an even better balance between performance and power efficiency while improving the SoC's AI capabilities, making these features accessible to more users.
According to Qualcomm, the new platform is "fully equipped to enable exciting new use-cases including up to 2.63GHz peak CPU speeds, over 50% faster GPU performance, and 60% improved AI performance per watt while still delivering incredible power efficiency." These improvements will mean a better experience for budget-minded buyers, and will hopefully extend the life of these devices and keep them out of landfills.
AI features prominently in Qualcomm's messaging around the Snapdragon 7 Gen 3 Mobile Platform. At its core is the Qualcomm AI Engine, which its creators say will enable new experiences in devices through adding the horsepower necessary for impressive AI tasks.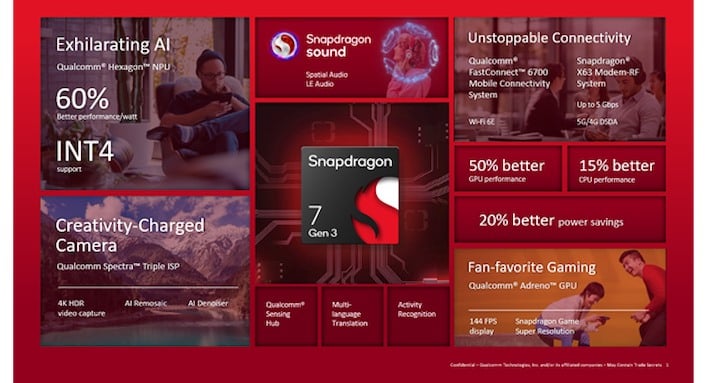 At the
Snapdragon Summit
earlier this year, Qualcomm showed off the camera capabilities available with the new platform. It contains triple image signal processors (ISP) allowing it to use up to three cameras at once. 4K video, 200MP photos and low-light photography all offered impressive results. Cameras are a key part of any smartphone on the market today, and Qualcomm is making sure that Snapdragon 7 Gen 3 is going to deliver the performance users expect.
Gaming is another area where Snapdragon 7 Gen 3 will look to impress. It includes Snapdragon Game Super Resolution, a technology that "intelligently upscales visuals" to deliver improved visual quality over previous SoCs without sacrificing performance or battery life. As we noted above, Qualcomm says the GPU in this part is 50% faster than the Adreno 710 used in the previous generation, which is impressive on the face of it.
Judging by this launch, Qualcomm is really focusing on bringing
more features
to mid-range devices. The first phones using this chip will apparently come from Chinese vendors Huawei and Vivo later this month.