Samsung Beefs Up Galaxy Device Security With One UI 6 Auto Blocker Tool
Customizing and modifying your smartphone can be fun, but it can also leave you open to security threats.
Samsung
hopes to ameliorate that risk, however, with a new suite of optional features in its One UI 6 Android skin. A feature, known as Auto Blocker, will lock down your phone to lessen the risk of malware and hacking with the flick of a virtual switch.
You'll find Auto Blocker in the system security settings. Turning it on does three things, all of which make it harder to customize your phone, but vastly improve device security. Most importantly, Auto Blocker stops all application sideloading. You might sideload because you want to run an older version of an app or to install something not listed in the Google Play Store or Samsung Galaxy Store. Doing so requires tapping through a confirmation dialog, but turning on Auto Blocker prevents installation entirely.
Many
device exploits
involve sending commands to a phone over USB via the Android Debug Bridge (ADB) tool. Auto Blocker prevents those commands from going through. There are legitimate reasons you might want to send ADB commands to a phone, and you can still do that if you don't enable Auto Blocker. The last core Auto Blocker feature enables app security checks, which proactively monitors apps for evidence of malicious activity. However, Samsung notes this feature is not currently offered on carrier models in the US.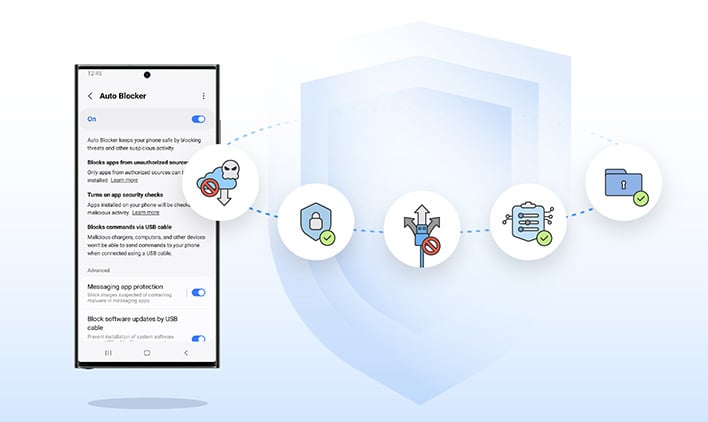 The Auto Blocker menu also includes two features that are enabled by default: messaging protection and blocking system updates over USB. The messaging feature will block images suspected of containing malware or targeting system vulnerabilities. Anyone who likes to mod their phone with custom software will have to turn off the USB update toggle, but it's a good security measure for everyone else. Someone with physical access to the phone could attempt to flash compromised software that gives them access to your data.
One UI 6 is the next evolution of Samsung's Android software, which is based on the latest Android 14 OS. That software is only officially available on Google's Pixel phones as of today, but Samsung is running a
beta test on the Galaxy S23 family
. The final version should roll out to the S23 lineup
with Auto Blocker in tow
before the end of the year. The Z Flip 5 and Fold 5 are probably up after that, and then the update will slowly make its way to older and lower-priced Samsung devices.