Refreshed Ring Chime Pro Sports Completely New Design In FCC Leak
Ring Video doorbell users have two ways they can install the doorbell. One has users hardwire the device, and the other relies on battery power. The catch with relying on battery power is if you want to hear the doorbell ring, you need have a Ring Chime Pro that can be plugged into an outlet in a different room. The existing Ring Chime Pro is a smallish device that plugs into an outlet. A new image is going around that claims to be of a refreshed Ring Chime Pro with a completely new design.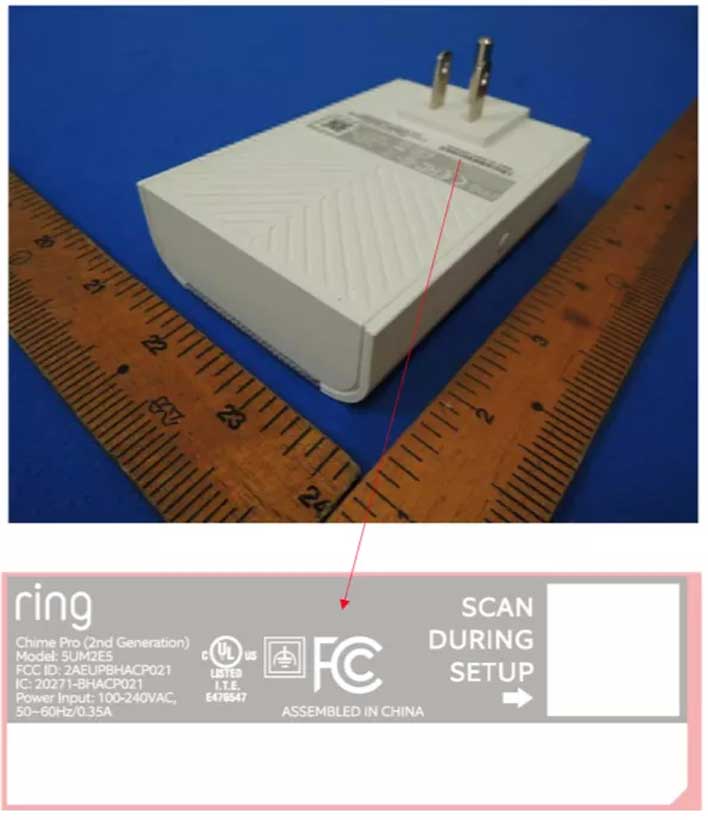 The image appears to show a device with a more significant speaker inside. Speculation is that the new Ring Chime Pro may have full Alexa integration inside along with a full speaker. That would make it a good way to integrate Alexa into a room where you also want to hear your doorbell. There has been no confirmation of specs or features at this time.
It does have a very bright ring-shaped logo glowing, leaving many wondering why a device only meant to chime would need such a prominent logo. The cloth speaker cover is certainly more attractive than the current Chime Pro and its speaker grill that looks fit for another decade. It's hard to tell from the image, but the new Chime Pro doesn't appear to have an antenna sticking up on the top.
Speaking of CES, here's the Ring Chime Pro *2* -- looks like it's got a full-on speaker and Alexa, maybe like an Echo Flex. pic.twitter.com/onVChand4N

— Dave Zatz (@davezatz) January 2, 2020
Alexa integration would make sense for the new Chime Pro as users who only want the doorbell could buy the Chime Pro and control the doorbell from it. An image of the device has turned up at the FCC, hinting it may be ready to debut soon. In other Ring news, the log-in credentials of over 3,600 Ring Camera users were leaked.