Radxa Rock 5A Emerges As A Stout SBC Alternative To The Delayed Raspberry Pi 5
Thanks to recent supply shortages, people have had a large struggle getting their hands on Raspberry Pi 4's. Even the Pi 3 models have gone up in price compared to years before. Not only that, Raspberry Pi CEO Eben Upton stated that it's unlikely we'll see a
Raspberry Pi
Model 5 come in 2023. It's not all bad news for fans of these small form factor devices, though. Thanks to the success of the Pi, other manufacturers have worked their way into the single-board computer space. These include
Radxa
, who recently revealed its ROCK 5A SBC, a follow up to its larger ROCK 5B pictured below.
Bearing a striking resemblance to the Raspberry Pi 4, the Radxa ROCK 5A SBC is powered by a Rockchip RK3588 and has a GPIO that might look pretty similar to those who are use to the Raspberry Pi. The processor includes a GPU which allows this little board to run up to 8K resolution video. To compare, the Pi 4 only manages 4K as of this writing. The processor in this device is surprisingly powerful for such a small form factor and definitely puts Radxa ahead of the curve right now.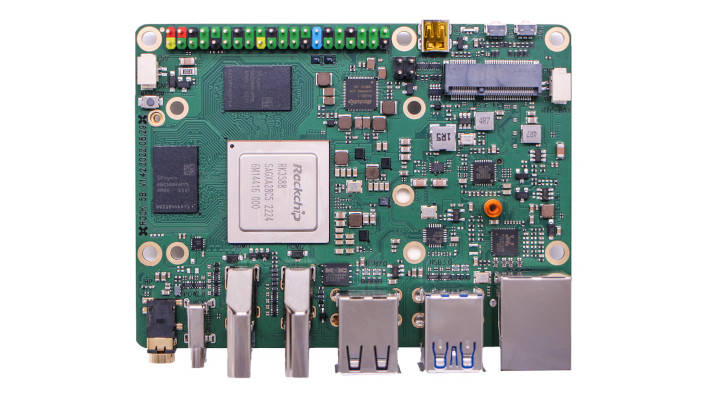 The embedded ARM Mali-G610 MP4 3D GPU makes this device compatible with OpenGLES 1.1, 2.0, and 3.2, OpenCL up to 2.2, and even Vulkan 1.2, though we highly doubt gaming is a core focus of those who utilize this device. That 3D capability, however, can be used for handling and processing 3D input and scans, which can be useful for robotics and other applications. Below is a list of full hardware specifications for the device.
Rockchip RK3588S SoC

Quad Cortex®-A76 @ 2.2~2.4GHz and a quad Cortex®-A55 @ 1.8GHz based on Arm® DynamIQ™ configuration
Arm Mali™ G610MC4 GPU supporting:

OpenGL® ES1.1, ES2.0, and ES3.2
OpenCL® 1.1, 1.2 and 2.2
Vulkan® 1.1 and 1.2

Embedded high performance 2D image acceleration module

NPU supporting INT4/INT8/INT16/FP16/BF16 and TF32 acceleration and computing power is up to 6TOPs
64bits LPDDR4x RAM options:
Able to provide 3 display outputs via two HDMI, and one MIPI DSI
H.265/H.264/AV1/AVS2 multivideo decoder up to 8K@60fps
H.264/H.265 multivideo decoder up to 8K@30fps
The Radxa ROCK 5A can support up to 16GB of LPDDR4x RAM. It, like many other boards of its type, uses MicroSD for its primary storage. Also, unlike many top-tier cell phones of today, it comes with a 3.5 mm audio jack. The only drawback on the device is that there is no Wi-Fi built-in. However, it does have an M.2 E Key socket, if you wish to add Wi-Fi that way. Full IO details are listed below.
1x USB Type-C™ port for power supporting USB PD 2.0 and QC 2.0
1x Micro SD Card
2x micro HDMI output ports, one supporting displays up to 8Kp60 resolution, one supporting up to 4Kp60
2x USB2 Type A HOST ports
1x USB3 Type A HOST port, 1x USB3 Type A OTG/HOST port
1x Gigabit Ethernet port (supports PoE with add-on PoE HAT)
1x M.2 E Key with PCIe 2.1 one-lane, SATA, USB 2.0 support
1x eMMC module connector for eMMC 5.1 support
1x Camera port (1x four-lane MIPI CSI or 2x two-lane MIPI CSI)
1x LCD Display port (four-lane MIPI DSI)
Miscellaneous

1x RTC battery connector
1x PWM fan connector
1x Power button
1x Recovery pin, 1x Maskrom pin
1x Power LED, 1x User LED

40 pin 0.1" (2.54mm) header supporting a wide range of interface options:

Up to 5 x UART(2x with flow control)
Up to 3 x SPI bus
Up to 6 x I2C bus
Up to 1 x PCM/I2S
Up to 2 x SPDIF
Up to 7 x PWM
Up to 1 x CAN
Up to 1 x ADC
Up to 27 x GPIO
2 x 5V DC power in/out
2 x 3.3V power out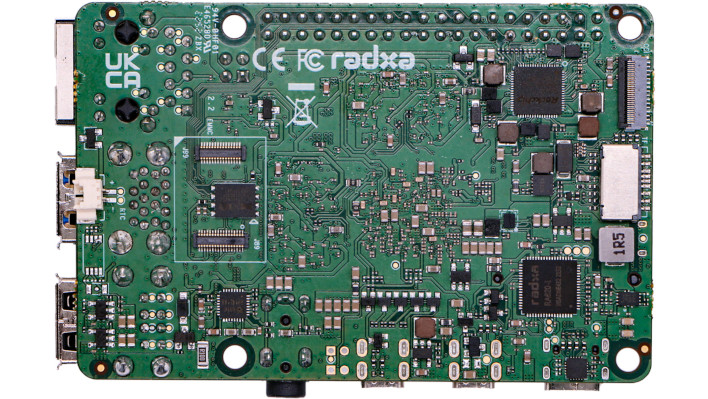 Image of Bottom of Radxa ROCK 5A
While it is not released yet, prospective buyers can score a $30 pre-order discount via China-based retailer
ALLNet China
with a $5 deposit. Or if you're impatient and want to use a similar, but larger board, you could pick up the
Rock5 Model B
, which runs the same processor. If you want more information on the ROCK 5A you can check out the
Radxa forum
where the device was announced.