Apple's iPhone 16 May Abandon Apple's Dynamic Island For This Instead
It appears as if Apple is ready to move on from the Dynamic Island display feature it introduced just last year with the iPhone 14 Pro and iPhone 14 Pro Max. According to Majin Bu, someone known for Apple rumors and leaks, Apple is internally testing a version of the upcoming iPhone 16 with a hole-punch cutout design. Majin Bu posted this information to X, formerly known as Twitter. However, the plan to make the switch is very much in flux. If it does happen, it might not end up happening until the iPhone 17.
Other sources have been releasing information pointing to the iPhone 16 keeping the current design featuring the Dynamic Island. Phone Arena shares that Ross Young, CEO of Display Supply Chain Consultants (DSCC), believes that the iPhone 16 will still have the Dynamic Island and that the iPhone lineup will next see its biggest change with the iPhone 17. Young says that this is when Apple will introduce larger displays across the lineup.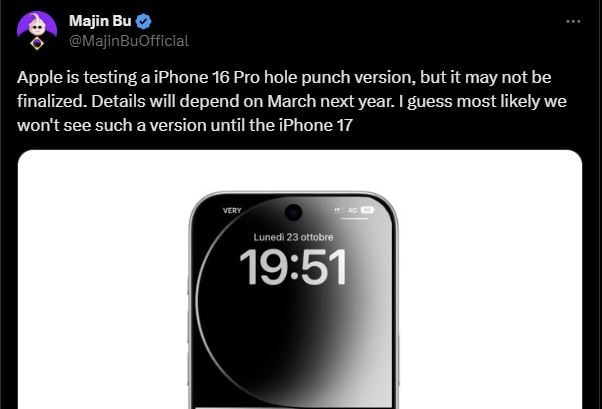 Apple has been using the Dynamic Island as an interesting way to make their camera cutout feel more natural. iOS application developers have been able to use it to display Live Activities, which according to Apple can help with "transforming notifications, alerts, and activities into a fluid and interactive piece of animation. Whether tracking a delivery, following the game, or checking the status of an upcoming flight, the Dynamic Island helps keep people up to date without distraction."
However, the iPhone community has certainly been frustrated by the lackluster implementation of the Dynamic Island by developers. So the fact that Apple is at least testing something different isn't too surprising. Apple certainly has a history of jettisoning hardware and software features if they feel their products will be better after making the change. Even if those features are popular with users.