Huge Alan Wake 2 Patch Brings Over 200 Improvements And Fixes A Really Annoying Bug
Alan Wake 2
has been impressing gamers since its release, with its gripping story and visuals. PC gamers had to rummage through a rough year of gnarly, unoptimized titles such as Arkane Studio's
Redfall.
The subsequent release of patches and apologies seemed to follow an alarmingly familiar pattern after a few duds came to market.
Alan Wake 2
is a great game, but it too has had its share of early bugs to deal with. Thankfully, we have a massive patch inbound that address over 200 issues.
Alan Wake 2
has been notoriously difficult to run even on an
NVIDIA GeForce RTX 4090
at 4K - as I recently found out. With maxed out graphics settings, including ray tracing and path tracing on high, native resolution saw a meager 24 FPS average. Only when one uses NVIDIA's impressive DLSS 3.5 with Frame Generation do we see the FPS go over 60. That's a feature, not a bug, as the developer Remedy is pushing technological boundaries.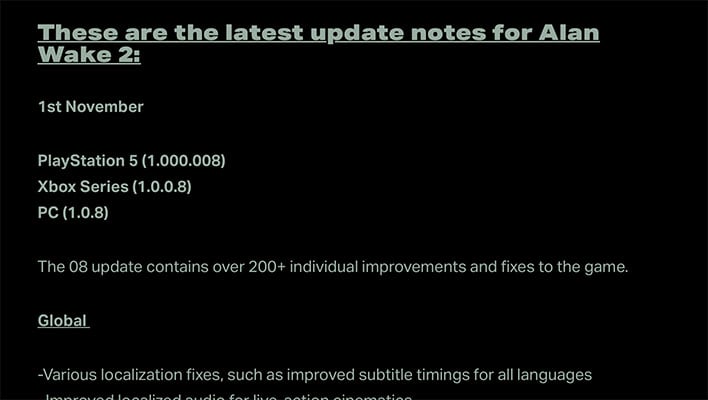 The new November update is 1.0.8 on PC, and also available on PlayStation 5 (1.000.008) and Xbox Series (1.0.0.8). One particularly annoying bug that was fixed pertains to the
Room 665 bug fix: "-Fixed an issue that caused the Oceanview Hotel Lobby Echo not to align correctly (this one was really annoying; we apologize)"

We also have various improvements related to the experience of the game. Starting with audio, improved lip sync and similar fixes help to keep gamers engaged more realistically. There's also a laundry list of graphical improvements and tweaks to the overall visuals, such as in the various environments.