Google Confirms An Android 14 Bug Is Wreaking Havoc On Pixel Devices, Fix Incoming
Over the past few weeks,
Pixel
owners have encountered an issue that "soft bricks" their devices, locking them out of their apps, media, and other content akin to ransomware attack. However, this issue is not from a threat actor but rather from a bug in Android 14, which has been found to be related to having multiple profiles on a Pixel device. Thankfully, it seems
Google
is now noticing the issue, after a little prodding.
On Saturday, we covered
quite the public outcry
from Pixel owners across social media and in the Google issue tracker, with a plethora of people complaining about their "bricked" Pixel devices. At that time, there were around 400 comments, and Google had not yet replied to the issue, leading to speculation and complaints surrounding Google. Since then, there have been another 100 comments, including one from a Google representative explaining what is happening.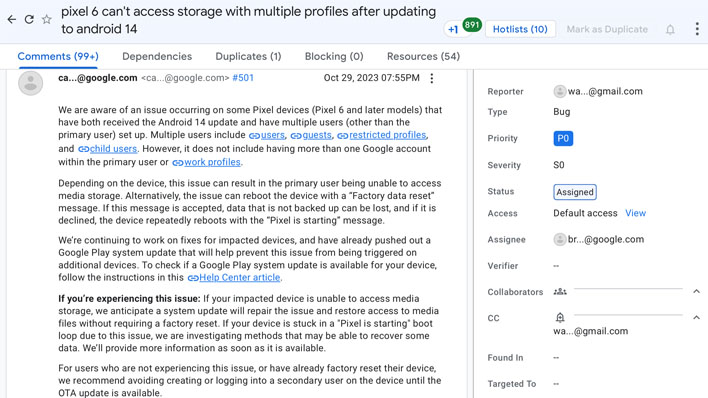 Google's
reply to the issue tracker
thread explains that they are "aware of an issue occurring on some Pixel devices (Pixel 6 and later models) that have both received the Android 14 update and have multiple users (other than the primary user) set up." From device to device, this issue could manifest as the primary user being unable to access the media storage, a factory reset, or a boot loop. Subsequently, Google is working on fixes for impacted devices and has rolled out a Google Play system update to help prevent the issue from happening to more devices.
Google further notes that if you have encountered this problem and your devices cannot access media storage, a system update should fix the issue and restore access without a factory reset. If you are one of the "lucky" users stuck in a boot loop, it appears that "this is a recovery not a rescue," sort of ordeal, as Google is investigating means to recover some user data.
Hopefully, this fix will be delivered soon, but it would seem that this issue could result in a total loss for some folks. That said, we will cross our fingers and see what Google can figure out in the coming days.