Stake, Crypto Casino And Kick Streaming Site Backer, Stung By Hacker's $40M Heist
Australian crypto-casino Stake, which has seen a rise in popularity for sponsoring or being used by streamers on
Twitch and Kick
, has reportedly been hacked. The threat actor responsible for the attack has seemingly gotten off with roughly $40 million in Ethereum, which was taken to several external crypto wallets; but it seems Stake has bounced back with relative ease.
On September 4th, several
cryptocurrency
watchdog companies alerted to multiple suspicious transactions taking place from the Stake wallets. It was estimated that $41,350,173 in assets were moved out of these accounts, according to
BeosinAlert
, a Web3 real-time risk alert group. The biggest pull of this total was just under $10 million in Ethereum as of writing, or 6,001 ETH.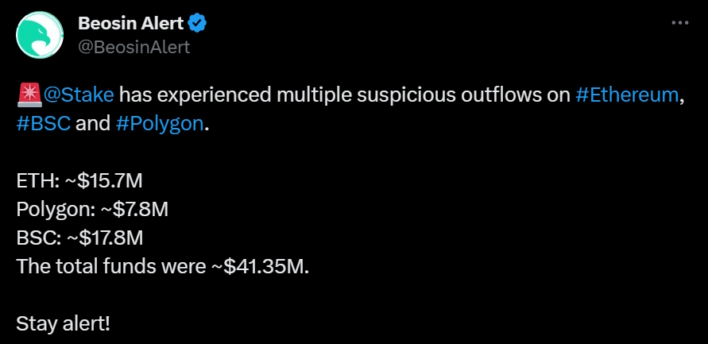 Shortly thereafter, Stake posted a message to X stating that there had been several unauthorized transactions and that those specific wallets were down while they were re-secured. Further, the company noted that user funds were safe from the threat actor. Four hours after that initial post, Stake announced that all services had resumed as the accounts were re-secured and that "Deposits & withdrawals are processing instantly for all currencies."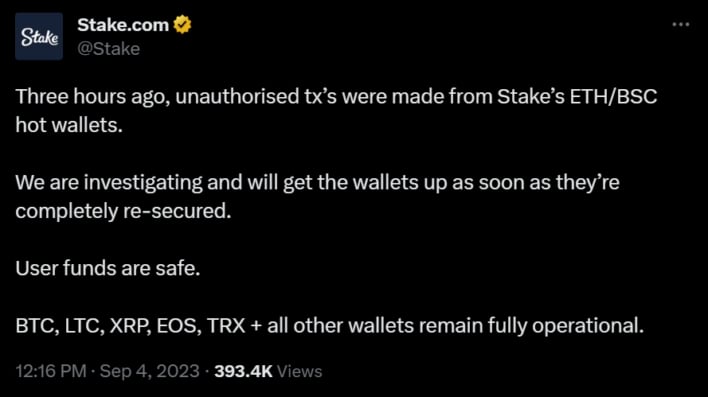 While we await official comment and confirmation from Stake, we can extrapolate from what was explained publicly. Namely, in the initial post from Stake, the company mentions that the unauthorized transactions came from the company's hot wallets, which are internet-connected cryptocurrency wallets. In this case, these wallets are likely used to help move and process the vast amount of money that Stake draws in, represented by an
estimated $2.6 billion
in gaming revenue in 2022.
Regardless, it seems that Stake has recovered well from the
security
incident, though it is unclear if the funds have been or will be recovered. Thus, we will have to wait and see what is announced, so stay tuned to
HotHardware
for updates and more information.