Chick-fil-A Warns Customers Of Potentially Fowl Security Breach, What You Need To Know
If you have a Chick-fil-A account and notice suspicious activity or unapproved purchases, take action now, because with the fast food chain has been
hacked
, affecting an unknown number of user accounts.
As early as the beginning of January, there have been Reddit posts stating that their Chick-fil-A accounts have been
emptied of royalty points
or
stored payment methods were fraudulently used
. The American fast food restaurant Chick-fil-A has publicly acknowledge this by sending emails to potentially affected customers. There's also warning in its website and Chick-fil-A One app that states, "We are investigating suspicious activity on some customer accounts." Furthermore, it has published a customer support page on its website, which is basically an FAQ page instructing users what actions to take if and when they notice unusual activity on their accounts.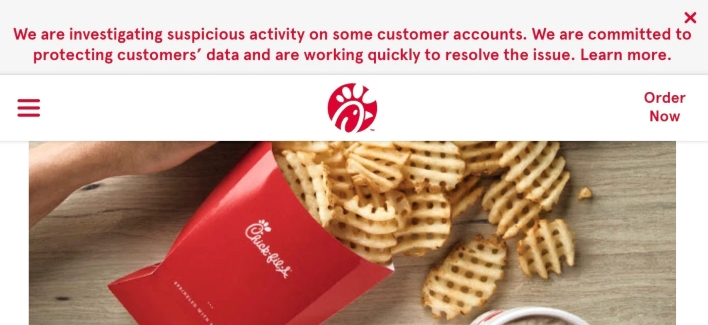 If you see any unusual activity on your
Chick-fil-A
account, it is advised that you reset your account password with something more unique and complex. Chick-fil-A also recommends that affected users remove any stored credit or debit cards, and adding them back only after any unauthorized transactions have been settled with their financial institutions and password change is completed.
The fast food company is indicating that any fraudulent purchases (be it with payments methods or reward points) made through users' Chick-fil-A One account can be refunded once the internal team has done their due investigation. To do so, users need to
contact customer service
to report the suspicious activity and answer a few questions.
Now, we know that Chick-fil-A is loved by folks all over, but the lengths that some people go through just for a chicken sandwich, even if it's at someone else's expense, is really sad. To find out more about what do to if you think you have a compromised account or just want to know more, visit
this page
on Chick-fil-A's website.