ASUS Built A GeForce RTX 4070 Concept Card That Doesn't Use Any Power Cables
Are you
terrified of the 12VHPWR
connector? Even if not, do you simply hate having extra power cables cluttering up the look of the inside of your case? Well, either way, ASUS has the graphics card for you. The GeForce RTX 4070 Megalodon is a mammoth graphics card with a triple-fan cooler and absolutely zero power cable connectors.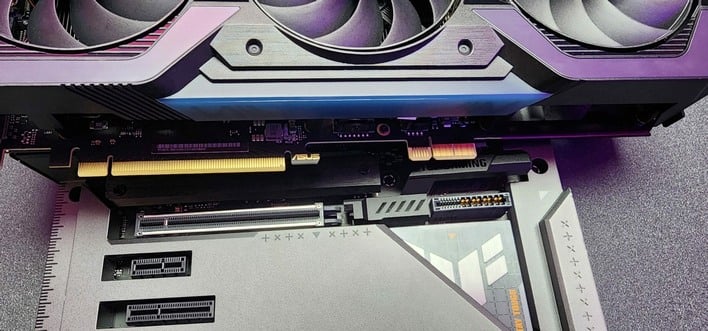 That's not to say it doesn't have any power connectors, mind you. There's two extra sets of golden fingers on the end of the card, and besides reminding us of
VESA Local Bus
graphics adapters from days gone by, these connectors also act as power delivery for the GeForce RTX 4070 GPU and its memory.
To be clear, this is just one graphics card that only works on one motherboard. However, it's a promising idea, both because it's a lot neater than having a big bundle of wires snaking around in your case and also because it reduces
the weight on the top side
of the card as well as providing extra support toward the front.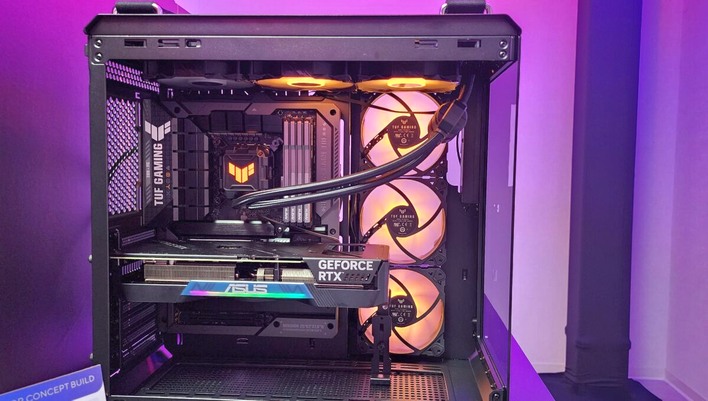 But look how clean it is!


Of course, given the enormous size of the cooler on this thing, you'll almost assuredly want to use a GPU support bracket, anyway. Indeed, the demo PC actually includes such a bracket. It also uses a prototype ASUS Z790 TUF Gaming motherboard with all of the power and SATA connectors on the back of the motherboard. That includes not only the typical 24-pin ATX power as well as an 8-pin EPS12V connector, but also three eight-pin PCIe power connectors for that extra GPU slot.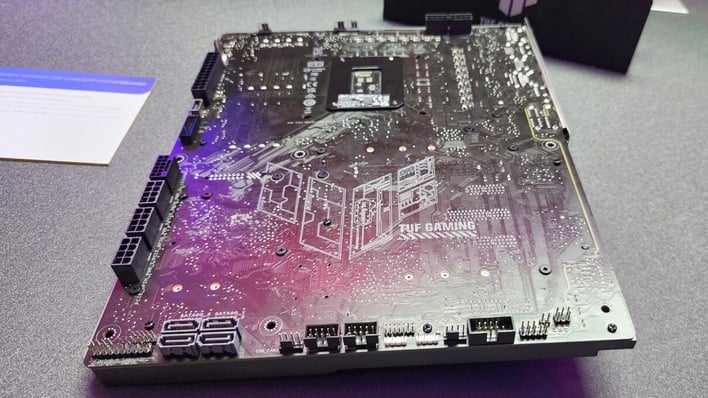 The custom motherboard moves all the connectors around to the back.

ASUS told WCCFTech
that it plans to release this GPU and motherboard to retail globally later this year, although we expect that quantities will be quite limited. The company isn't ready to talk pricing yet.
All images from this post property of WCCFTech.