Crabby Apple Finally Caves On Bringing RCS Text Support To iPhone
Here's an announcement that can be filed under "unexpected." After
previously refusing
, Apple has confirmed it will add RCS support to the iPhone, giving Android users the ability to send feature-rich messages to Apple's smartphone. The days of green bubble discrimination are finally coming to an end. However, Apple stresses that iMessage is not going away.
This has been an ongoing headache for everyone who doesn't have an iPhone for as long as iMessage has existed. When an iPhone user sends a text message to another iPhone, it's intercepted and routed through Apple's servers. That's how iMessage adds enhanced features like read receipts, typing notifications, and high-resolution media. When an Android phone sends a message to an iPhone, it arrives as a regular SMS, with all the limitations thereof. Apple puts these messages in green bubbles, allowing its customers to instantly recognize (and sometimes
discriminate against
) Android users.
Apple will deploy support for Rich Communication Services (RCS) in a software update next year, but it'll be up to carriers to throw the switch. All recent Android phones support RCS messaging, so Android fans will finally be able to converse with iPhone users with modern features. "Later next year, we will be adding support for RCS Universal Profile, there standard as currently published by the GSM Association. We believe the RCS Universal Profile will offer a better interoperability experience when compared to SMS or MMS. This will work alongside iMessage, which will continue to be the best and most secure messaging experience for Apple users," Apple told
TechRadar
.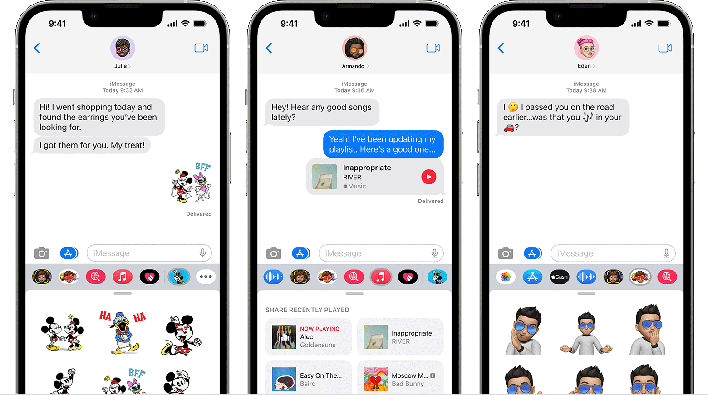 Technically, Apple didn't say the green bubbles are going away—there may still be some visual cue to separate iMessage from RCS. We expect iMessage to have a few features that aren't in the RCS standard, like memoji, stickers, message retraction, and end-to-end encryption, to name a few. On that last point, Apple isn't planning to add its own encryption for RCS in spite of its strong focus on privacy. Instead, it wants to work with the GSMA standards body to have end-to-end encryption implemented with RCS as a whole, but that could take time.
This announcement comes after
years of heckling from Google
, and Android phone maker Nothing announcing a janky way to use iMessage on its phone several days ago. It's far from certain these events had any impact on Apple's decision. More likely, it calculated that it couldn't avoid implementing the messaging standard forever. Regulatory changes in Europe recently
forced it to switch to USB-C
, and there's a chance it could be forced to allow third-party apps soon. Apple may just be getting ahead of the regulators this time.