PowerColor Sneak Peeks A New Hellhound GPU, Is This The Radeon RX 7800?
PowerColor has been busy on social media in the run-up to
AMD's Gaming Festival event
at Gamescom, which is scheduled for Friday (tomorrow). What AMD is going to reveal isn't yet set in stone, as far as outsiders know, but the wise money seems to be on the launch of a Radeon RX 7800 XT, an RX 7700 XT, and perhaps even some info about the oddball
RX 6750 GRE
.
Starting with the headlining Hellhound first. PowerColor teased a new member of this devilish canine card
on Twitter/X
. We get a clear picture of the back of the card bearing the Hellhound logo, framed by an inverted triangle in blue LED (image, top).
We can also see the blue LEDs from one of the fans shining through the shroud. Controlling this blue LED lighting doesn't need any software, as a switch is provided on the top of the card, alongside a pair of 8-pin power connectors.

According to the best leaked data we have, the Radeon RX 7800 (XT) has a TDP of 260W, and the RX 7700 (XT) is 245W. Therefore, both will need dual power connectors to perform up to spec, unless AMD adopts one of the
new ATX 3.0 power connectors
.

Incidentally, we recently reviewed the PowerColor
Hellhound Radeon RX 7600
graphics card. You can dive into that review to get a good feel for the features present within the Hellhound range and discussions on cooler quality and performance.
Shifting our attention to PowerColor's
Facebook tease
, it looks like we have a plainer, no-LEDs, black fans Fighter edition card due to launch (pictured below). The Fighter series is a slightly lower-tier product typically sold at 'reference price', so we might be looking at a tightly cropped image of an upcoming RX 7700 XT card, but that definitely isn't conclusive - the image doesn't give a lot away.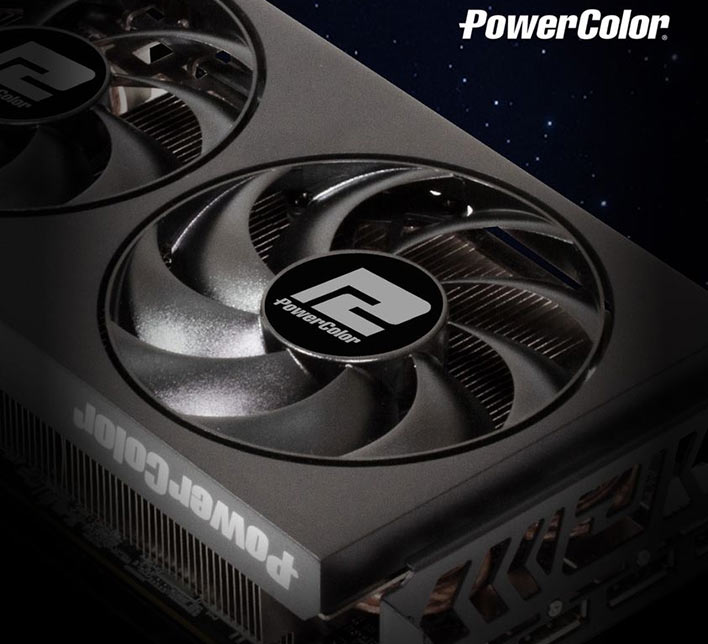 Yesterday we reported on ASRock's amusing graphics card placeholders, currently on show at Gamescom. This AMD AIB had three conspicuous places vacant on its
wall of graphics cards
. In the spaces were some placeholders advising that the slots would be filled with new AMD RDNA 3 graphics cards by August 26. The same goes for PowerColor's (and other AMD AIB) full reveals - those interested in what graphics cards AMD is going to announce need only wait until tomorrow - please stay tuned.