iPhone 15 Launch Buzz Is Off The Hook With Long Retail Lines For Apple's New Bauble
It seems everyone wants
Apple's new iPhone 15
and iPhone 15 Pro, announced at last week's Wonderlust event. At least, that's the perspective that Apple would like to share with everyone. In years past, Apple routinely had huge lines at all of its retail locations at each new iPhone launch, but the company had been pushing customers to
use the web
. What makes this year so different?
No doubt Tim Cook would like everyone to believe that the crowds are based on the new features and performance of the company's latest smartphones. Apple's CEO was out at the company's Fifth Avenue, New York store yesterday when the new iPhones dropped, greeting a crowd of eager buyers and even posing for photos with fans. After the hubbub died down, Cook
tweeted
shared some of those photos on
Twitter
X. To be sure the Fifth Avenue store was full of folks with whom Tim awkwardly posed. A man of the people, no doubt.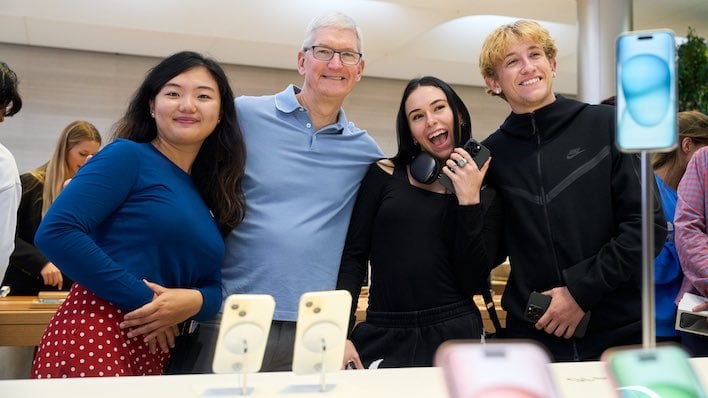 Apple CEO Tim Cook poses for photos at Apple Fifth Avenue (Image credit: Tim Cook, X)
Without a doubt, Apple made some big strides with the iPhone 15 lineup, including USB-C connectors across the newly announced family, including USB 3.1 Gen 1 for the iPhone 15 Pro. And it seems that Apple has completely sold out of the top-end flagship Pro lineup, with its own website quoting delivery times that stretch all the way out to Halloween as of this writing. The company has definitely sold through whatever number of phones it could manufacture, but we do have to wonder just how many phones that is.
You see, Apple touted at the Wonderlust event that the
surprisingly color-changing
iPhone 15 Pro and Pro Max are the first smartphones to have a 3-nanometer SoC inside. While that would be a big accomplishment, riding the bleeding edge is not without its perils. TSMC has been building Apple's SoCs for quite a while. However, the fab can't even keep up with
NVIDIA's needs
right now, let alone the hundred-million-plus chips (though dramatically smaller in silicon area than a GPU) that Apple ships on an annual basis. It would not surprise us to find that TSMC can't produce enough A17 Pro SoCs to fulfill every order that Apple would like to ship right now, either. And perhaps the promise (again) of console-quality graphics, coupled with actual console titles like
Assassin's Creed Mirage,
has spurred a few sales.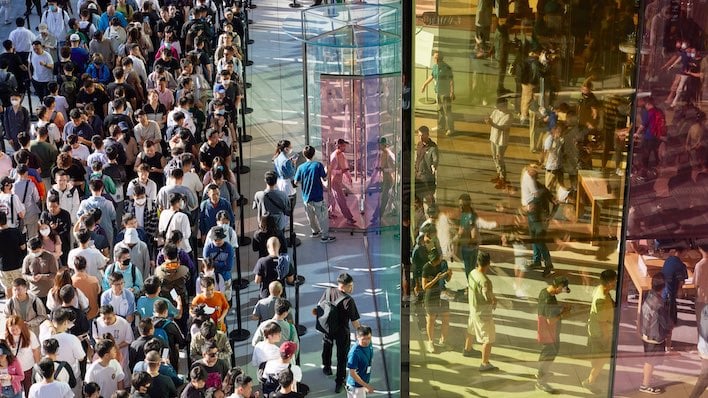 That said, the non-Pro iPhone 15 also seems to be a big hit, as a quick check of Apple's website shows delivery for most of those color and capacity combinations isn't available until early October. That's surprising availability for last year's leftovers; the vanilla iPhone 15 continued last year's trend of mid-range iPhones falling a year behind their Pro siblings. This year's iteration picked up the iPhone 14 Pro's A16 Bionic SoC and 48-megapixel main camera, but ditched the telephoto sensor and 120 Hz display in favor of a lower $799 price point.
Fans may not be as enamored with Apple Watch Series 9, however. The newest wearable from Cupertino is a
modest upgrade
over the last couple of versions, with gesture control as the primary highlight. Most Watch owners could be on the fence about upgrading still, however, as Apple still has Series 9 models in stock ready for delivery as soon as September 29th.